Cidrerie du Château Lézergué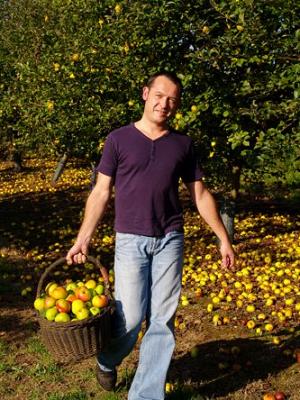 A bit of history
Mr Jan initiated this orchard in Audierne when he planted some 100 cider apple trees. With passing time, the desire to spend more time with his apple trees became pressing and, in 1990, he created the Château de Lézergué orchard in Ergué-Gabéric, near Quimper. First, 10 hectares and then 20 hectares were planted with apple trees.
Matthieu, the oldest son, quickly took over to develop what is now 35 hectares. Mrs Jan also took interest in the venture and became actively involved in CIDREF activities.
Guillaume, the middle son, came onto the scene 5 years later to create the cider-production facilities, based on his father's preliminary trials that began in 1990. Joseph, the youngest, joined his brothers in 2000.
Today, the three brothers are at the head of a modern cider farm undergoing exponential growth, now transitioning to organic farming. A successful family enterprise, to the glory of Breton and Cornouaille ciders!

Alcohol abuse is detrimental to your health. Drink responsibly.