Since the earliest Antiquity, people have been producing a home-brewed apple beverage.
Shortly before AD 1, Strabon wrote that 'apple wine' was a popular drink in north-western Spain, where the inhabitants called it 'sizra' (eventually becoming 'sidra' in the 15th century).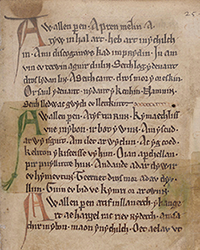 In the 12th century, Breton mariners brought home grafts of tannic apples for the Landevennec monks who selected the best cider apple varieties, while the Normans improved the brewing techniques. With the improved apples and techniques, 'citre' spread and gained popularity; in Breton, it was called 'sistr' from the 15th century on.
At the end of the 19th century, with the spread of grape diseases (mildew, phylloxera), cider became a bourgeois drink and the object of speculation, studies and research. J.F. Crochetelle published in 1905 his Pomologie du Finistère expounding the excellence of the cider apples in Cornouaille.
In the early 20th century, wine regained its lost standing. Cider, distilled into alcohol, was used in the gunpowder industry. After 1945, gunpowder manufacturing changed and the State ordered that orchards be uprooted.
Only a few orchards remained to carry on the tradition and, as of 1987, cider makers were allowed to use up to 50% apple juice concentrate. In response, traditional cider crafters in Pays d'Auge (Normandy) and Cornouaille campaigned for and obtained a Protected Designation of Origin ('Appellation Origine Protégée') for their ciders in 1996. The granting of these two PDOs marked the revival of traditional ciders in France.
Elsewhere in the world, the cider industry is undergoing a boom, driven by multinational corporations. Today, Cornouaille cider PDO is a reference in the comparatively small, but high-quality craft cider sector.
Alcohol abuse is detrimental to your health. Drink responsibly.